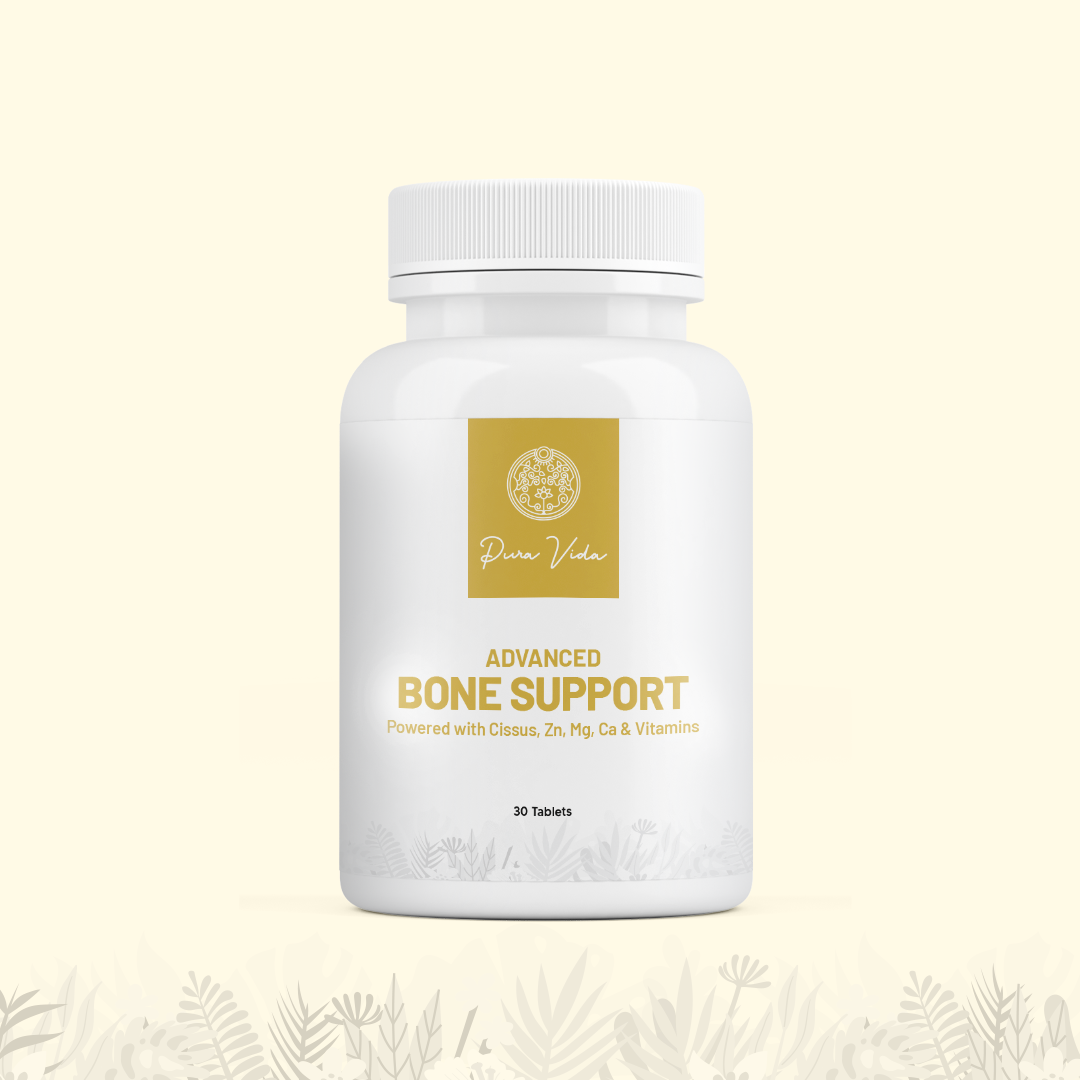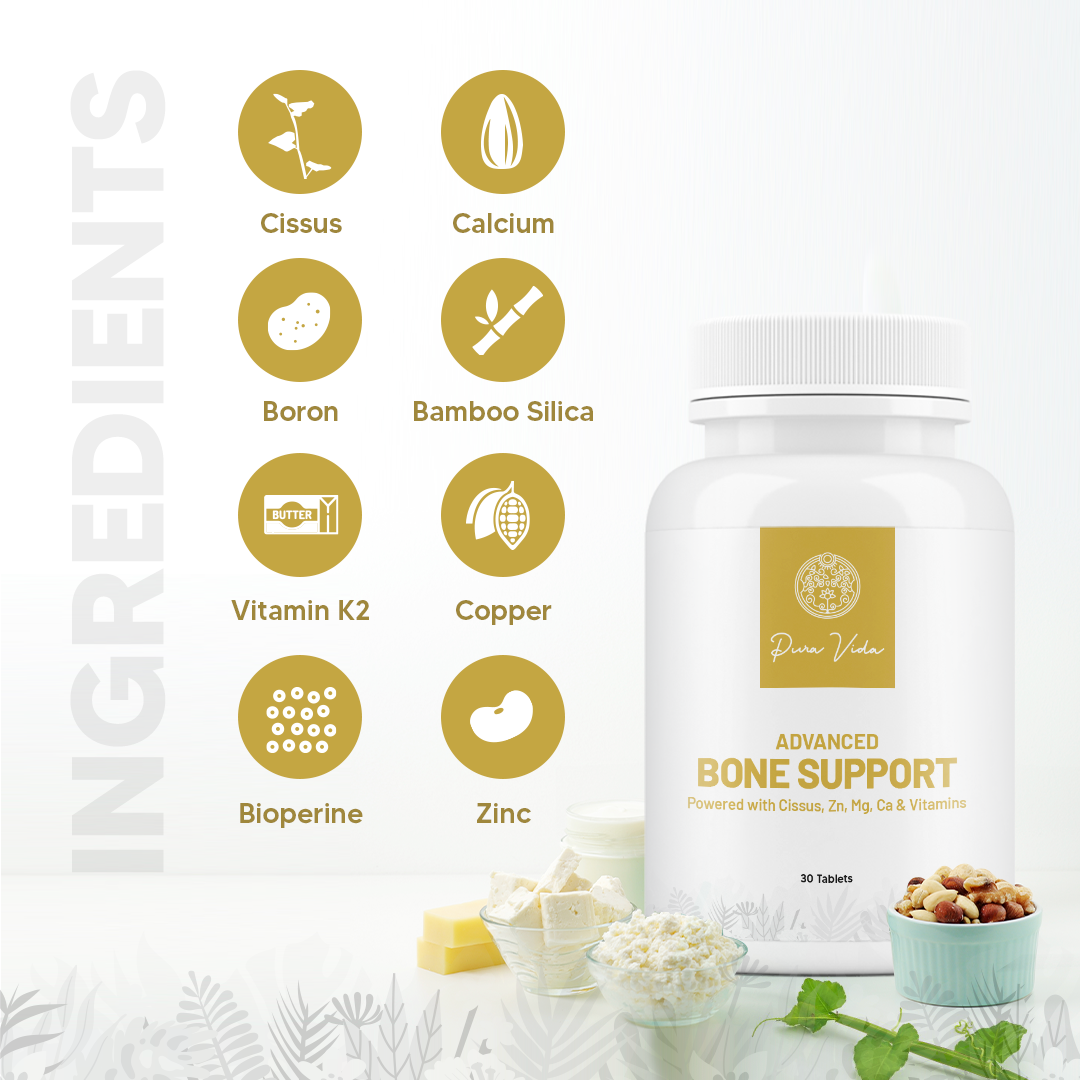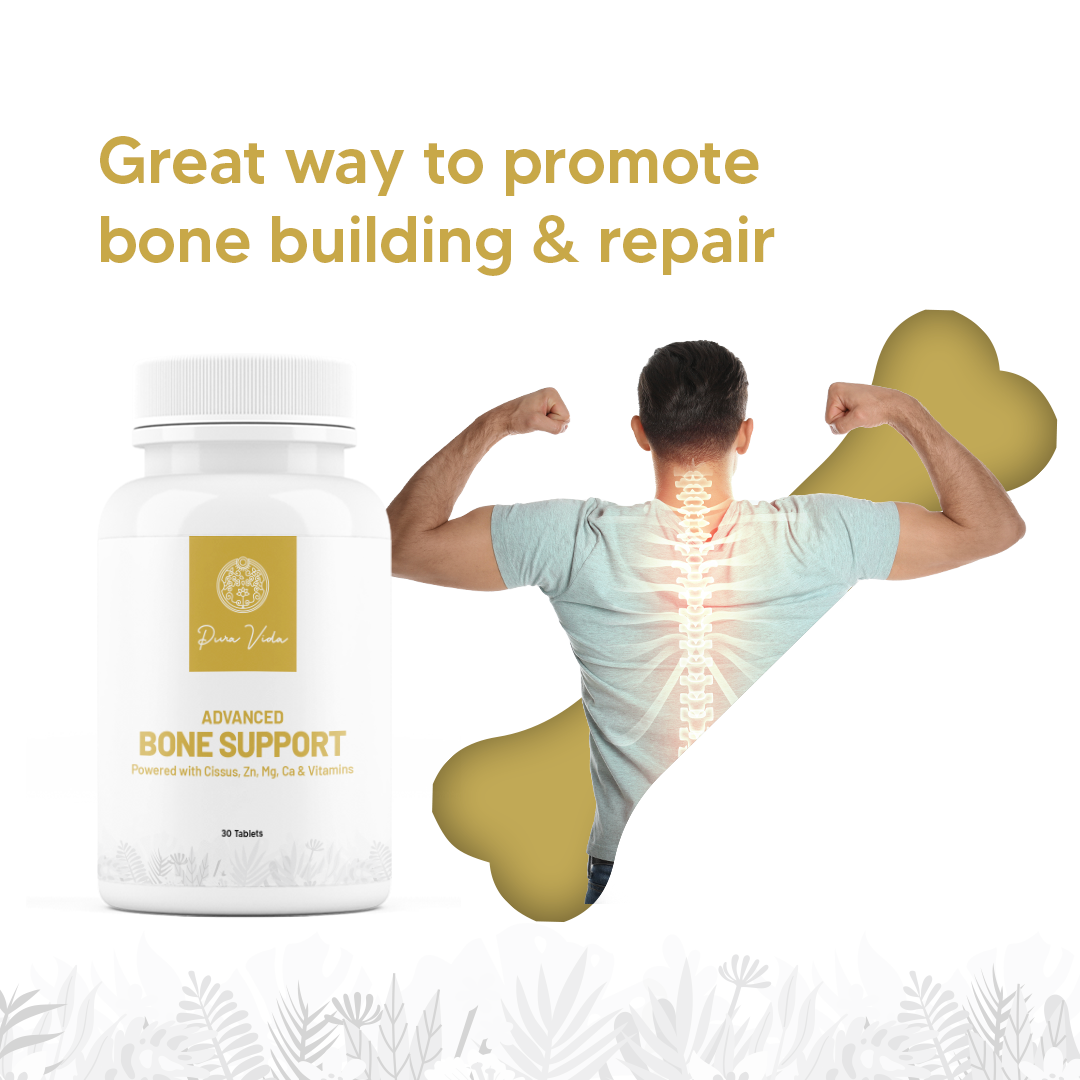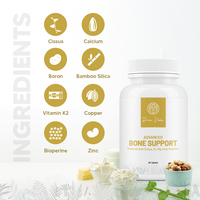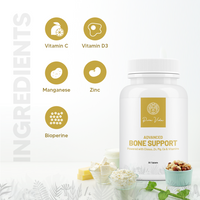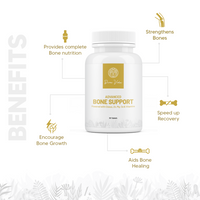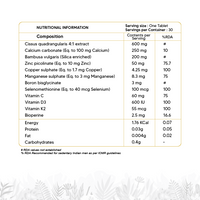 5875 Sold
3454
Advanced Bone Support Tablets
Rs. 699.00
Sale
Rs. 549.00
Description
Benefits
Dosage
Ingredients
Pura Vida Advanced Bone Support Tablets - Best Calcium Tablets for Bones in India
Pura Vida Advanced bone support capsules provide all the required nutrients needed for strong & healthy bones. 
These bone strengthening tablets contain clinically proven ingredients that promote bone building and speed-up bone repair.
These tablets contain a proprietary blend of key minerals and vitamins for bone building and bone growth. It contains world renowned bone healing blend powered with Bamboo silica and enriched Cissus quadrangularis extract, trusted by athletes and healthcare experts.
Pura Vida Advanced Bone Support Tablets Uses and Benefits
- Strengthens Bones
- Provides complete Bone nutrition
- Encourage Bone Growth
- Speeds up Recovery
- Aids Bone healing
How to Take Pura Vida Advanced Bone Support Tablets?
- Take 1 tablet per day after food.
- Each bottle contains 30 Tablets.
Pura Vida Advanced Bone Support Tablet Ingredients
- Cissus quadrangularis: Cissus quadrangularis is rich in Vitamin C and Antioxidants, well known to reduce bone loss, promote fracture healing, and prevent conditions like osteoporosis.

- Calcium: Osteoporosis, or brittle bones, can be caused by a lack of calcium. Calcium aids in the rebuilding and strengthening of bones.

- Bamboo Silica: Bamboo silica is just as important for bone health as calcium. It helps with bone density and flexibility. Silica naturally increases the presence of iron, calcium, magnesium, potassium, and boron in the body.

- Zinc: Zinc is a mineral that is necessary for normal skeletal growth and bone homeostasis. Zinc also appears to promote bone regeneration.

- Copper: Serum copper levels in the normal range are critical for bone health. Lower serum copper levels are associated with lower bone mineral density in the femoral neck and total femur.

- Manganese: Manganese is necessary for bone health, including bone formation and maintenance. Manganese promotes bone mineral density when combined with the nutrients calcium, zinc, and copper. This is especially important in older people.

- Boron: Boron is a trace element that promotes bone growth and development. It also influences minerals like calcium, phosphorus, and magnesium and works in tandem with vitamin D.

- Selenium: Selenium deficiency results in increased bone loss and low bone mineral density.

- Vitamin C: Vitamin C is required for the formation of collagen, which is the foundation for bone mineralization. Increased vitamin C levels have been linked to higher bone density in studies.

- Vitamin D3: Vitamin D is required for strong bones and muscles. Without Vitamin D, our bodies are unable to absorb calcium, which is necessary for bone health.

- Vitamin K2: Vitamin K2 stimulates the calcium-binding activities of two proteins, matrix GLA protein and osteocalcin, which aid in bone formation and maintenance.

- Bioperine: It promotes the absorption of minerals effectively into the blood, and enhance their bioavailability.
Frequently Asked Questions (FAQs)
Getting enough Vitamin D and K is extremely crucial for building strong bones. Vitamin K helps promote strong bones by binding calcium and other minerals to the bone whereas Vitamin D helps enhance calcium absorption in the body & helps with bone formation.
The ingredients used to make bone support tables are deemed to be safe under FSSAI guidelines. However we do not recommend these tablets to nursing and pregnant women.
These tablets contains herbal extracts and vitamins which are deemed to be safe without any noticeable side effects.
Fruits play a vital role in preventing Osteoporosis. Bananas, apples, pineapples, oranges, and figs are some of the fruits that has bone-strengthening qualities. However, nutrients available from fruits and vegetables are not enough to tackle bone loss or repair. Using a good supplement speeds up the repair and recovery.
Keep your bones strong with the following powerhouse beverages:
Fortified milk, Kefir, Green smoothie (made of dark green leafy vegetables), Grapefruit juice soy, almond, cashew milk.
Alcohol, carbonated drinks, caffeine, salt and sugary snacks are some of the dangerous foods that could weaken your bones.
Proper nutrition is key for imprvoing the bone density, pair it with good supplements that provide vitamins like Vitamin D, Vitamin K, minerals like selenium, silica, boron and manganese along with good calcium source from milk and milk products.
Walking is an excellent form of weight-bearing exercise that builds & maintains strong bones. Not only it improves your bone health, but it also increases your muscle strength, coordination, and balance which in turn helps to prevent falls & related fractures, and improve your overall health.
Yes, insufficient vitamin B12 increases the risk of osteoporosis and leads to hip fracture. Vitamin B12 is involved in inhibiting the mechanisms of bone fragility & modulates collagen formation.