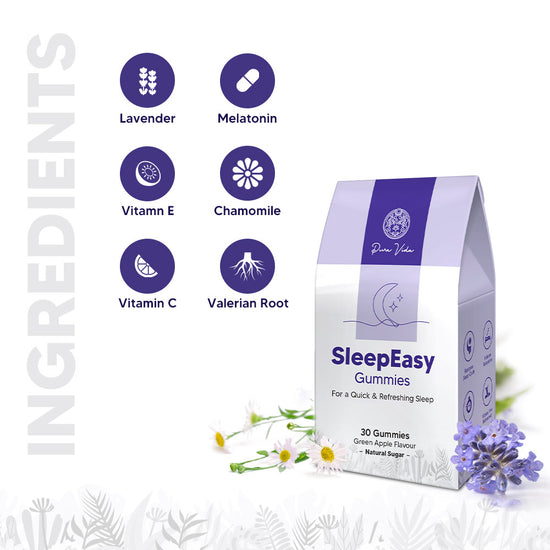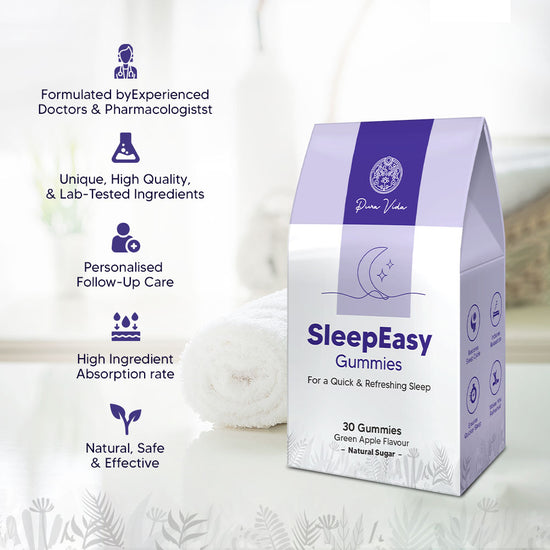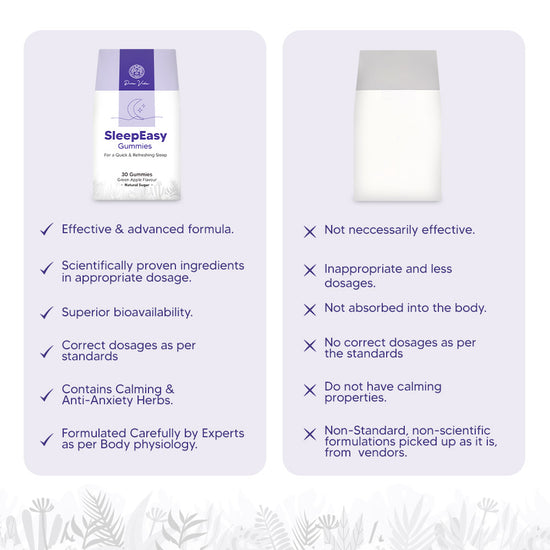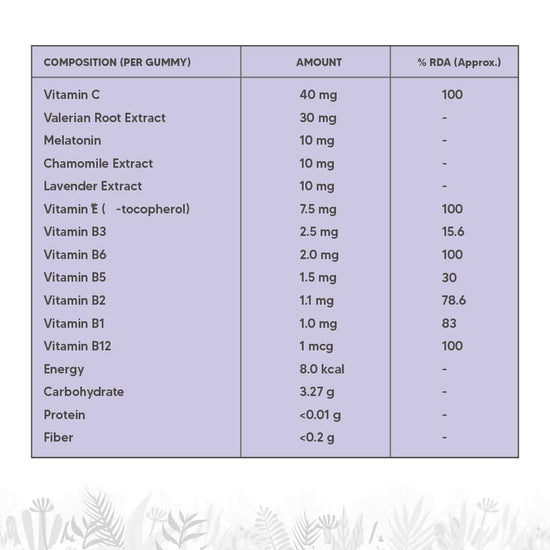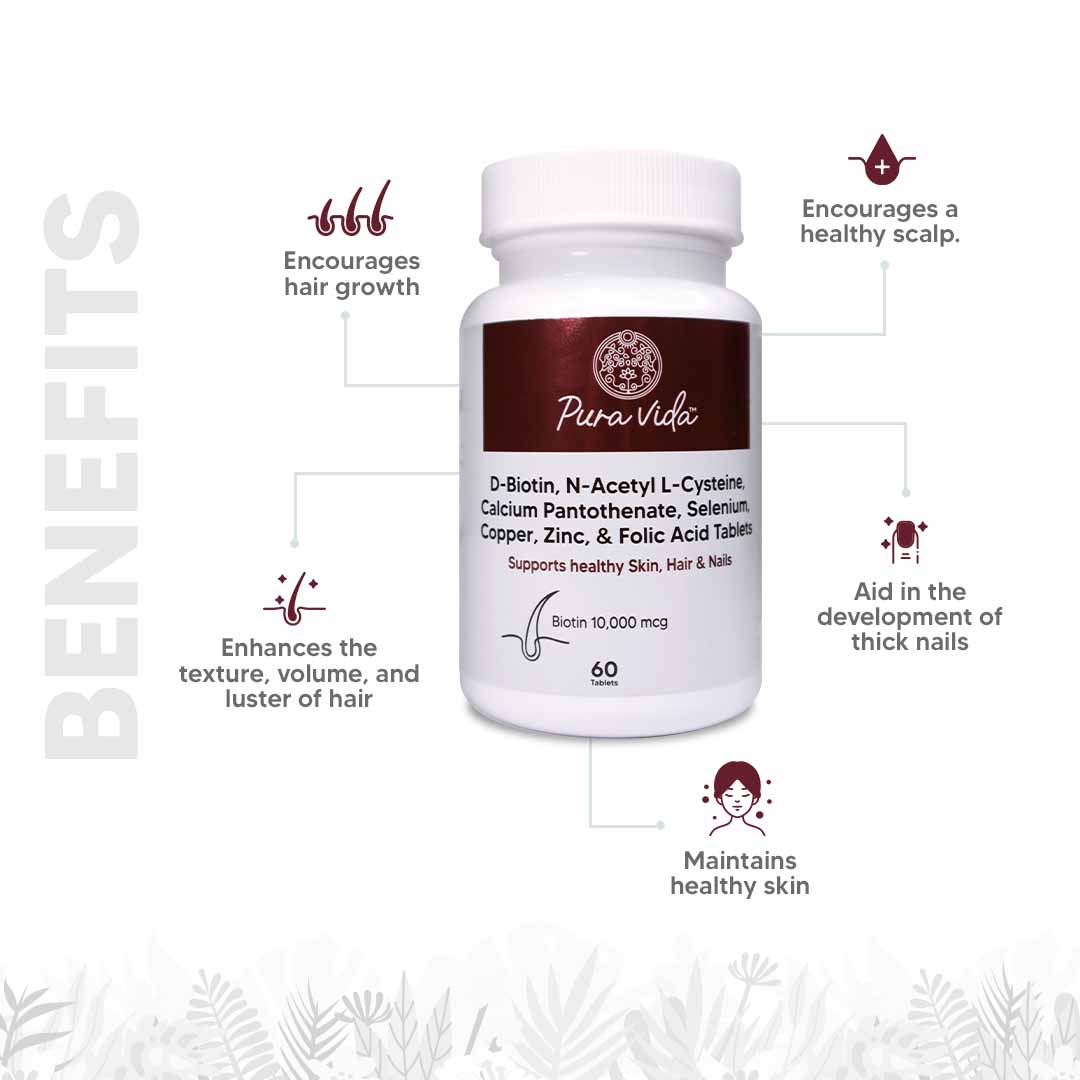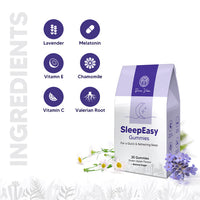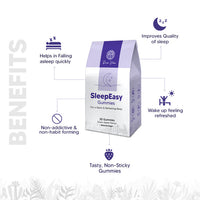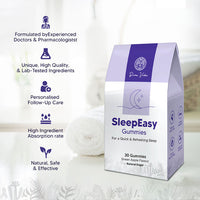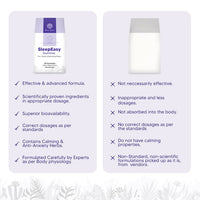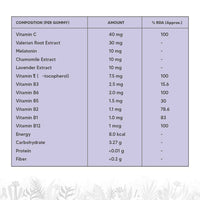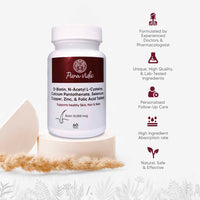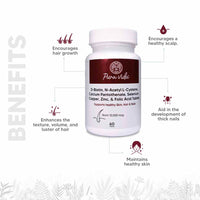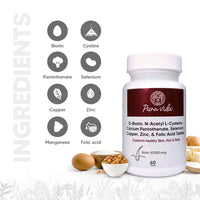 3115 sold
Sleep & Beauty Kit | Sleep Easy Gummies & Biotin Tablets
Rs. 1,198.00
Sale
Rs. 749.00
Description
Benefits
Dosage
Ingredients
About Pura Vida Sleep & Beauty Kit:
PuraVida Sleep and Beauty Kit comes with Sleep easy gummies and D-Biotin Tablets. It is a perfect partner for your beauty sleep.
A sound and deep sleep is a must for a beautiful and healthy skin, SleepEasy is a tasty natural sugar gummies having a unique blend of 10 mg of Melatonin , Vitamins B1-B6, B12, Vit C , E and scientifically proven calming herbal extracts like Chamomile, Lavender & Valerian Root which together helps you to sleep better.  
PuraVida Biotin tablets consists of Bioavailable easy to absorb D-Biotin. Regular intake of these tablets nourish your skin and maintains your skin health, glow and charm.  

1. Supoorts you to sleep faster  & better.
2. It helps you give a deep & refreshing sleep and maintains a healthy skin
3. Helps in calming the mind.
4. Safe, effective, Non-Addictive & Non Habit forming.
5. Encourages healthy hair and scalp.
6. Improves the texture, volume, and luster of hair
7. Aid in the development of strong and thick nails
1. Take one tablet of Biotin daily or as directed by the physician
2. One gummy to be chewed 30-60 min before you sleeping.
3. Most people fall asleep within 30 mins of consuming 1 gummy. Few people with chronic refractory sleep issues may need to take 2 gummies.
Sleep Easy Melatonin Gummies Ingredients:
Melatonin: Naturally produced in the body, regulates and regularizes the natural Sleep- wake cycle. It helps you sleep quicker, longer and deeper. Clinical doses of 5mg melatonin is found to be effective in improving the nocturnal sleep quality and duration in both men and women.

Valerain Root: A natural herb that is clinically proven to enhance sleep, reduce anxiety and bring about a feeling of calmness.

Chamomile: One of the most ancient medicinal herb, which has relaxing properties and aids in falling asleep faster and better.

Lavender: Acts as a natural sedative, reduces anxiety and helps in relaxing. It enhances the quality of sleep and increases the time spent in deep, slow wave sleep.

Vitamins B1-B6, B12:B vitamins help achieve good sleep, as they help enhance the levels of brain seretonin and Tryptophan, which are involved in the biogenesis of melatonin (sleep hormone).

Vitamin D: Vitamin D supplement improves sleep quality, reduces sleep latency, raises sleep duration and improves subjective sleep quality in people with sleep disorder. Its deficiency is associated with sleep disturbances.

Vitamin C:Vitamin C is known to be the mediator of the sleep duration by regulating the diastolic blood pressure. It has anti-oxidant and immunity enhancing effects and improves overall health and well being.
Biotin Tablets | 10,000 m Ingredients:
Biotin: Vitamin B7, sometimes referred to as biotin, or D-biotin, increases the formation of keratin in hair and can hasten follicle growth. N-Acetyl L-Cystine: NAC is a precursor of the amino acid cysteine, which has two crucial metabolic activities.
Cystine: L-cysteine is one of only a few amino acids that may create disulfide bonds in the body. These disulfide bonds maintain the keratin strands within the hair together,allowing the hair to retain moisture and avoid dryness.
Pantothenate: D-Calcium Pantothenate is a vitamin B5 precursor that promotes hair development within the scalp. It delivers necessary nutrients while reducing hair fall, strengthening hair from the roots, nourishing follicles from inside, and encouraging the growth of current and new hair.
Selenium: Selenium activates an enzyme required for the body's vital antioxidants, such vitamin C, to regenerate. These aid to further enhance hair growth and hair renewal by removing harmful free radicals.
Copper: Copper peptides prolong and promote the hair's growth phase (anagen). The regrowth of hair will be more vigorous and take longer to thicken as a result. As a result,
the hair follicles' resting phase (telogen) is lengthened, and the amount of rapid hair loss is decreased (telogen effluvium).
Zinc: Zinc is a crucial cofactor for many enzymes and is essential to the health of hair follicles. Zinc also promotes faster hair follicle repair and prevents hair follicle regression.
Manganese:
Due to its function in collagen formation, manganese may encourage the creation of new hair. The essential protein collagen makes the skin more elastic and strengthens the hair and nails.
Folic Acid: Enhances hair volume and gloss, encourages hair development, and postpones the onset of premature greying.